Recently I was thinking about what else I could add to my blog. Some ideas require more time and assistance from the other people, therefore I've decided to postpone them a little. But there are ideas that can be implemented today!
I'd like to start from afar. The very first acquaintance with the world of blogging I had some time ago. At that time we did not have a permanent connection to the global network, but there was a local network of our region in which I was spending every evening writing to my own online diary(blog). I liked that process, but the joy didn't last long, because that website was closed. Then there were a huge number of attempts to find a perfect platform for the blogging. One of my "tries" held for a few years. But I felt that I need to go to the next level and create something unique and more serious, than just a girly blog.
Two years ago me and Miroslav finally decided to create our own website. Initially it was a place for various photo-notes, pictures from our trips and other not-so-interesting things. But a year ago I started to shoot portraits, mainly female, more often. And the website became a great place to publish results. I know, that it's gonna be a long, hard journey, but the process of shooting brings me a lot more pleasure and satisfaction than anything before. And the first steps was the hardest. Almost all these years of my "online experience" I am constantly looking for a new inspiration, interesting blogs, new photographers and useful resources. Some of my favorite blogs have appeared among my bookmarks about six years ago, some of them were found recently. And I've already felt in love with them…
The main purpose of this long text was to say, that I'd love to share with you all things that inspire me. This time, I decided to talk about my favorite blogs on the Internet. But there will be other post about everything that surrounds me and give me a lot of inspiration. For example, about books, movies, music and maybe YouTube channels.
1.
source: abeautifulmess.typepad.com
I would like to start from the old one – A BEAUTIFUL MESS. This blog is about design, cooking, photography and lifestyle. The protagonists are two lovely sisters from US, Elsie Larson and Emma Chapman. Their story goes back to the early days of a blogging and personal websites infancy. Initially it was an older sister Elsie's personal diary. She is a designer and just insanely creative girl who managed to found several businesses in her twenties. Later, the younger sister Emma has joined to her and started to write on the blog, too. She is a very talented cook, whose interesting recipes appear there very often. Currently this blog is their main job. And if you are looking for a small business tips, tips for bloggers or just want to redesign your flat, I advise you to visit their website!
A BEAUTIFUL MESS blog – Visit them
2.
source: www.dylanasuarez.com
Also a very old favorite in my bookmarks – COLOR ME NANA. At that time, I have just started to learn English with a tutorial and constantly surfed the Internet in search of simple texts for practice. And quite by accident, I stumbled upon the blog of a American pretty fashionista Dylana Suarez, who always loved to write in details about everything that happens in her life, whether it is an overview of the next fashion show, or just a day out with friends. Since then, I like to visit her page from time to time and read about fashion events or just admire her good looks and style. Perhaps she is the only fashion blogger I follow for such a long time. And I think, that it would be incredible to add something like this in my blog. So, fashionista, I'm waiting for you!
COLOR ME NANA blog – Take a look
3.
source: janamartish.com
And at last – a photographer! She isn't just a photographer, but a very talented girl from Slovakia Jana Martišková, who shoots mainly with film. Here words are just superfluous. If you feel a little bit sad these winter days and need some solar heat, visit her blog – there are hundreds of warm cozy photos.
JANA MARTISH's blog – Warm up on the Jana's blog
4.
source: blog.juliatrotti.com
An Australian fashion photographer Julia Trotti is fourth on my list. When we have winter here on the Northern hemisphere, she posts her hot beach photographs. When we are getting a sun-tun, she writes about her creative autumn. This lovely girl photographs not only just look books, but also creates unique presets for Lightroom and actions for Photoshop. But most of all I love the number of photos that Julia shares with her readers. By the end of viewing each photo story I can feel the atmosphere of the photoshoot and it seems that you are present there with the photographer. Almost every photoshoot is accompanied by a beautiful video made by her boyfriend. So, all interested in fashion, go there for the inspiration!
JULIA TROTTI's blog – Drown in photos
5.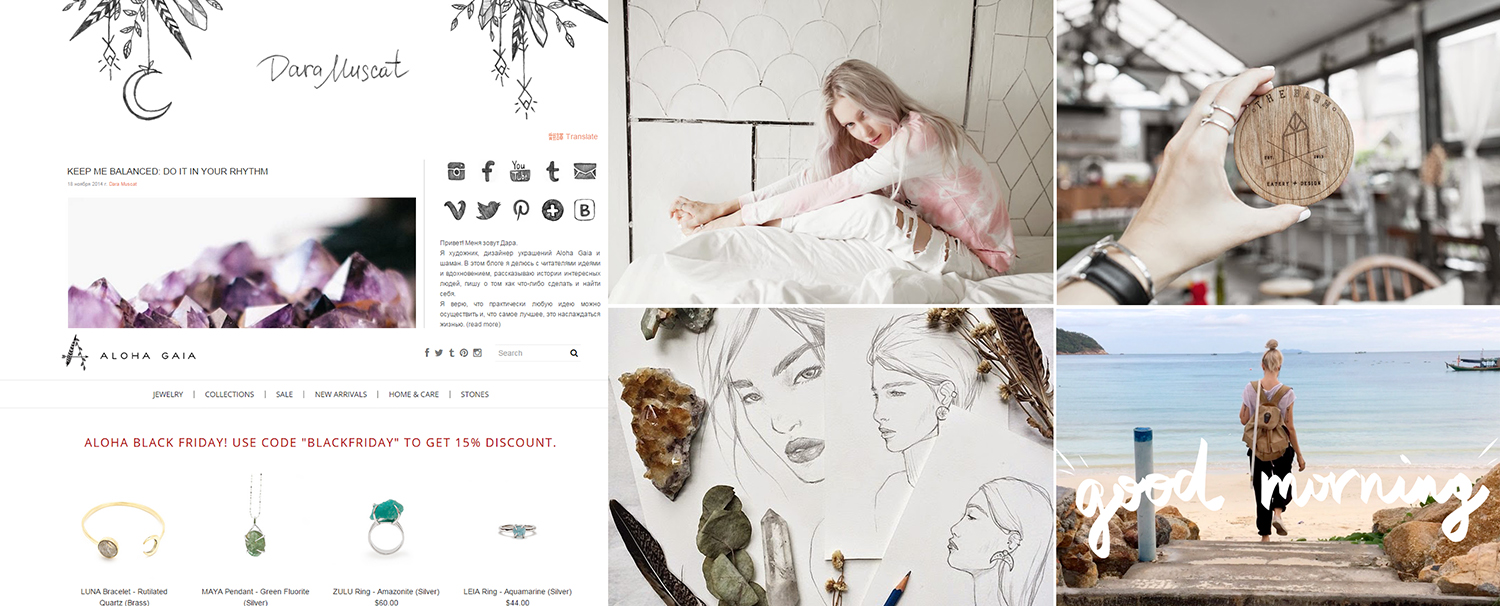 source: www.daramuscat.com
For a dessert, I decided to leave my recent discovery – a wonderful and harmonious Dara Muscat. She is a Russian artist, designer, blogger, and many, many, many other aspects in one person, who can charm at first sight. In her blog, Dara writes not only about what is happening in her life, but also what helps people to feel and listen to their inner voice. It's like a big bright temple in which you can breathe deeper and cleaner. Also this snow princess produces hers own jewelry with natural stones – ALOHA GAIA
DARA MUSKAT's blog – Take a breath
I feel quite satisfied after realizing what has influenced my current objectives in an area of blogging. List of favorite resources, of course, isn't limited by these five. In our time, the Internet has replaced many traditional media – newspapers, magazines, radio. But I wanted to share with you exactly what I'm looking for on the Internet – inspiration for a creativity. Although…about "BBC" radio or "Mayak"(Lighthouse) radio station I can write something, too. But that will be an another story.
Have a good frosty December and see you next time!
Dina